Geek & Gorgeous 101
Regular price
Sale price
£17.95
Unit price
per
Sale
Sold out
A silky, light emulsion containing a high-strength amount of retinal to help against all signs of aging.   
Good to know: This product is for experienced retinoid users. If you are just starting out, we recommend A-Game 5, our mid-strength retinal serum. 
30 ml
Share
View full details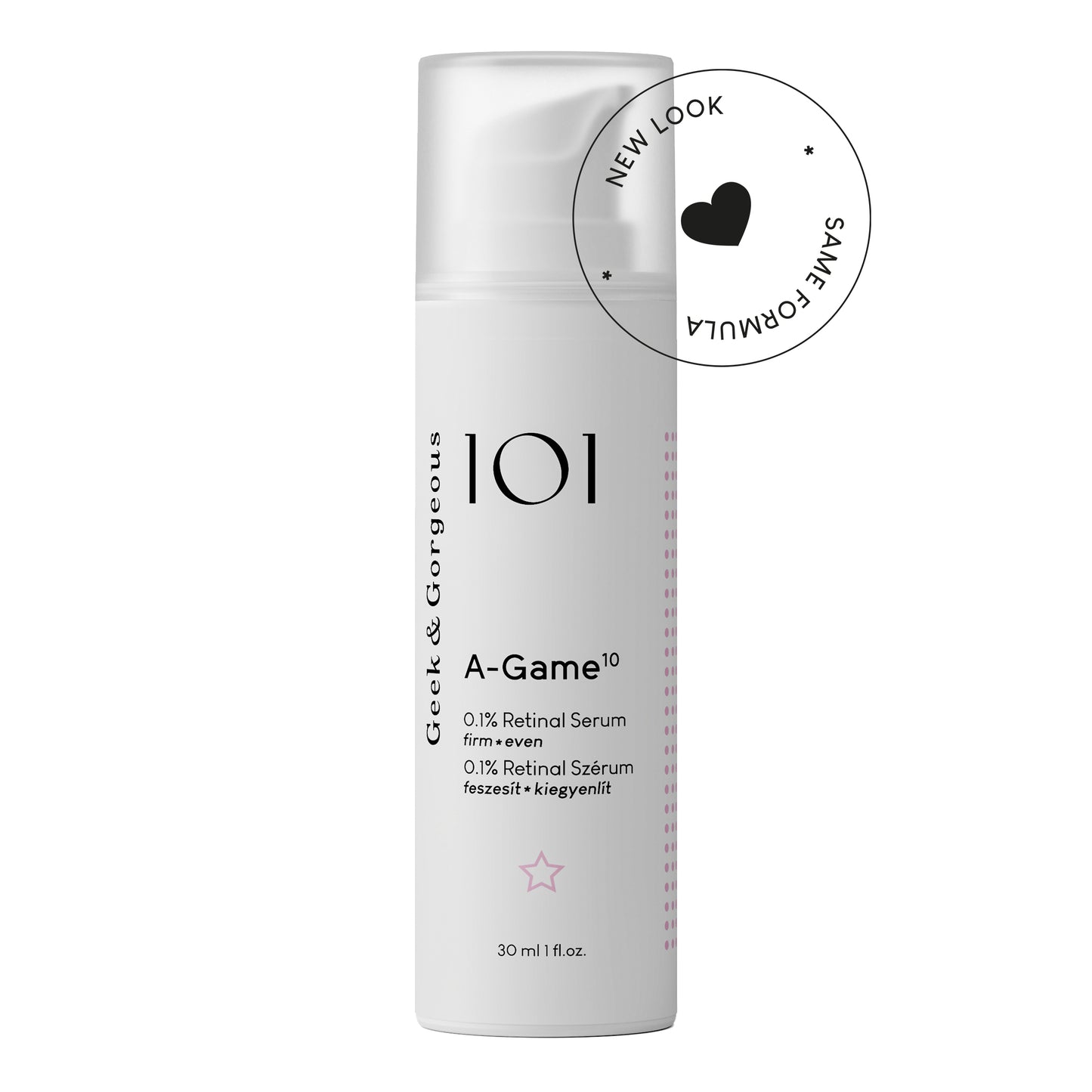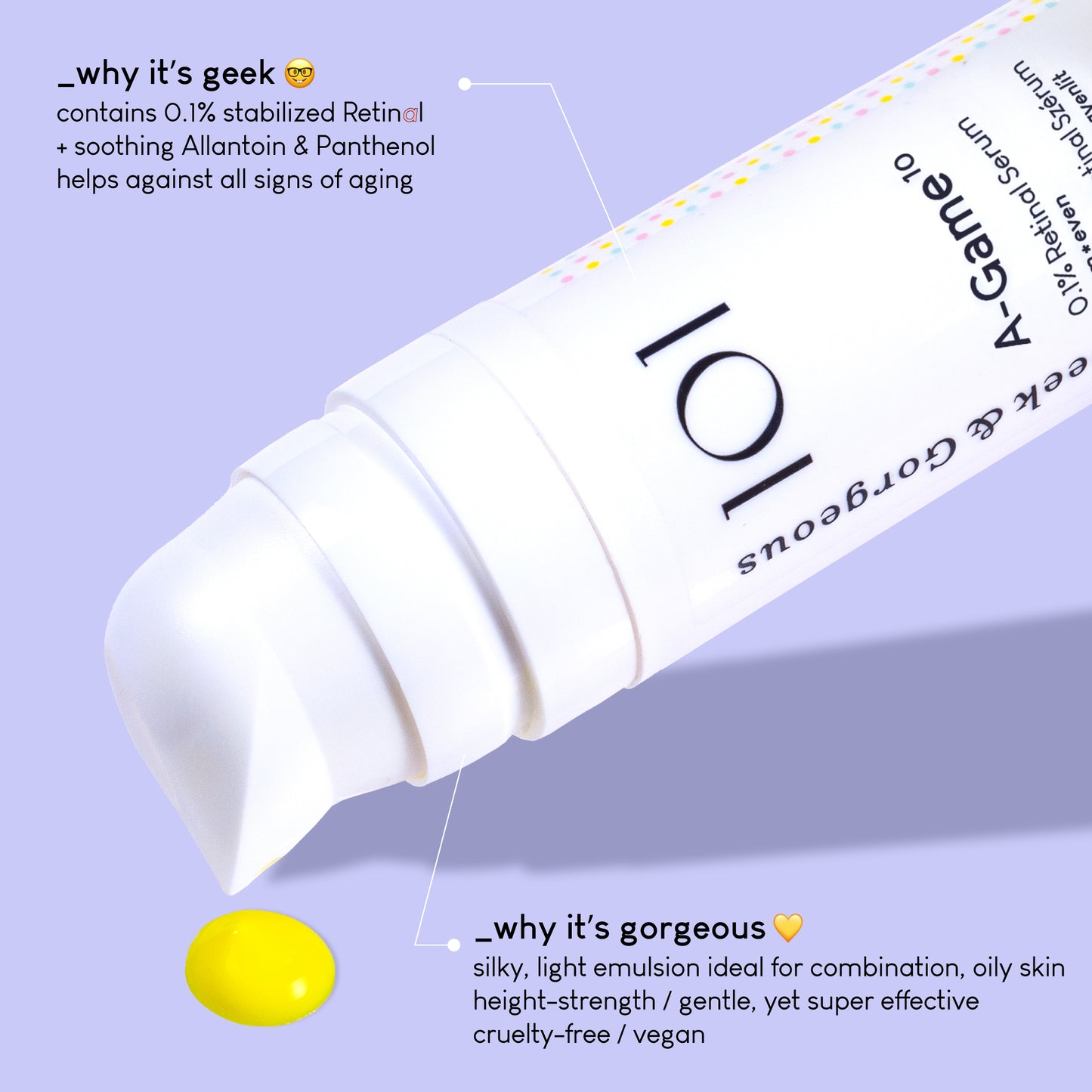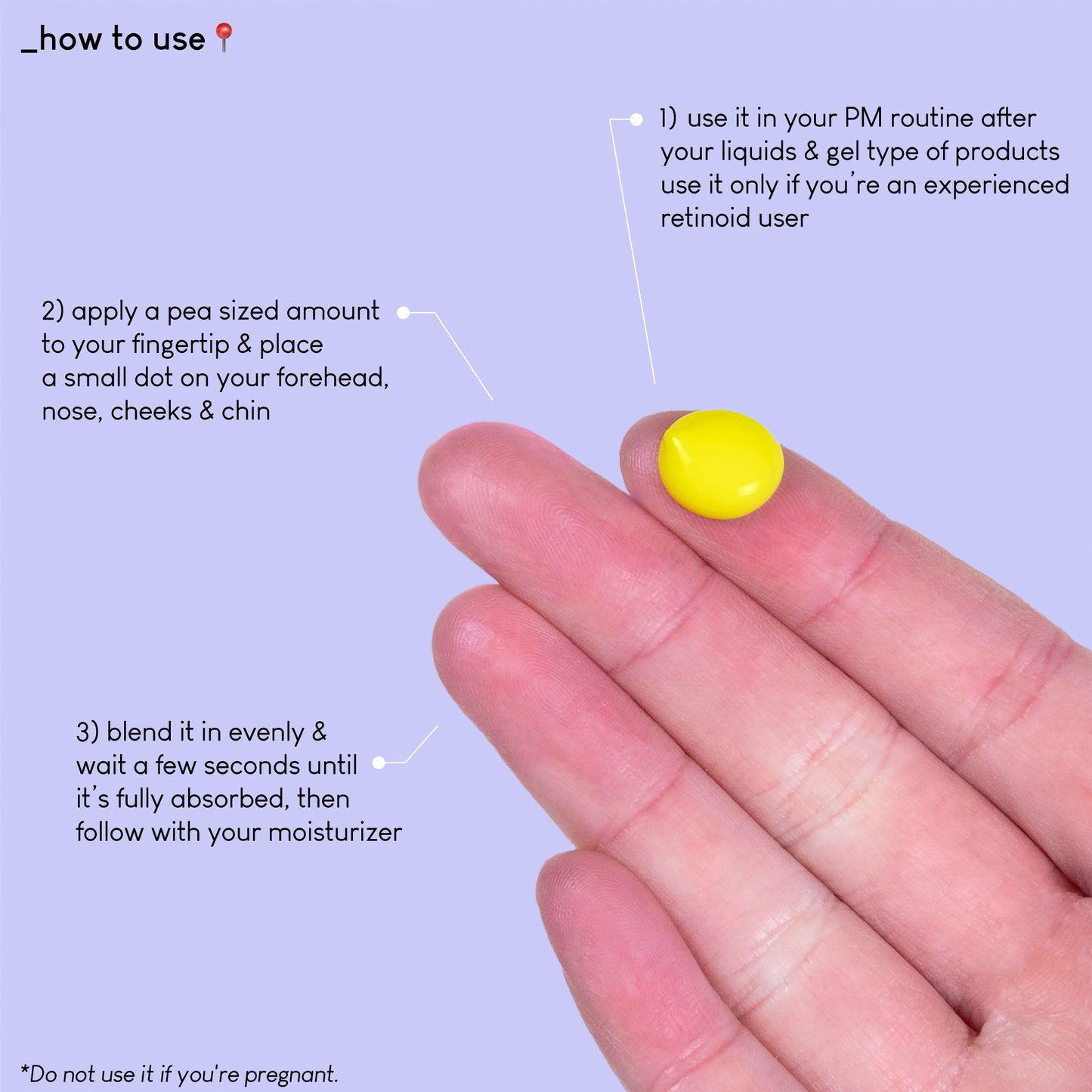 More about this product
Description

Retinal is the "big brother" molecule of the better known anti-aging superstar, retinol. While retinol needs two metabolic conversion steps to reach the active form, retinoic acid (aka  tretinoin), retinal is the direct precursor only one conversion step away from the active form the skin cells understand. It is estimated that retinal can convert more than 10x faster to retinoic acid than retinol, making retinal an outstandingly effective member of the retinoid family (vitamin A family).

6-6.5 pH
0.1% Retinal
+ Allantoin Biosaccharide Gum-1

Once converted, retinal helps the skin cells to produce more collagen and other structural elements, making the skin more youthful, firm and elastic. It also speeds up the renewal process of the upper skin layers making it smoother and more even. A-Game is a smart-aging must-have, but it is also useful as an adjacent product for fading pigmention, as well as helping acne-prone skin.

In terms of strength and knowledge, we would compare our 0.1% retinal serum to a high-strength retinol product (typically in the 0.5-1% range), but with less irritation potential and possibly quicker results. 
Who is it for?

We recommend this product, if you have already used our A-Game 5, loved it and you feel that your skin is ready for the next level. In terms of texture, this product is more comfortable for combination and oily skin. 

Skin Type: ideal for combination, oily skin
Skin Problem: Smart-Aging, Wrinkles, Loss of Firmness, Pigmentation
Texture: Bright yellow, silky and light emulsion
How to use it?

Apply a pea sized amount to the face in the PM. In your evening routine, apply liquid and gel-type products first (for example a toner, or our other serums such as HA 5 or B-Bomb), then A-Game. Follow with a moisturizer. Wear a sunscreen of SPF 30 or greater in the morning.

If you are using A-Game 10 for the first time, phase in application starting at 2-3 times per week for two weeks. If well-tolerated, move up to every other evening in two weeks and finally - if your skin tolerates it - every night. Do not use around the eye area. 

Do not use if pregnant. Topical use of retinoids during breastfeeding is considered low risk, however, please consult your physician first.

Good to know: A-Game has a bright yellow color due to the retinal in it. Based on our experience, it dissipates on the skin and does not leave a yellow tint on surfaces.

Shelf life: 18 months from production (unopened), 6 months PAO (period after opening)
Ingredients & Research

key ingredients:

Retinal (0.1%) – An anti-aging superstar ingredient that is the direct precursor of retinoic acid (the active form that the skin cells understand) and shows an outstanding activity/tolerance ratio among topical retinoids. 

Allantoin & Panthenol – A classic ingredient duo known for their skin soothing and skin protecting abilities.

Biosaccharide Gum-1 – A carbohydrate molecule that has nice skin soothing and moisturizing abilities, and makes A-Game even more gentle and silky. 

full inci list:

Aqua (Water), Caprylic/Capric Triglyceride, Oleyl Erucate, Glycerin, Triheptanoin, Cyclodextrin, Cetearyl Olivate, Sorbitan Olivate, Hydroxyethyl Acrylate/Sodium Acryloyldimethyl Taurate Copolymer, Biosaccharide Gum-1, Allantoin, Retinal, Rubus Chamaemorus (Cloudberry) Seed Oil, Panthenol, Citric Acid, Tocopheryl Acetate, Disodium Edta, Pentylene Glycol, Lonicera Japonica (Honeysuckle) Flower Extract, Lonicera Caprifolium (Honeysuckle) Flower Extract, Ethylhexylglycerin, Phenoxyethanol

research:

Creidi, P., and Ph Humbert. "Clinical use of topical retinaldehyde on photoaged skin." Dermatology 199.Suppl. 1 (1999): 49-52.

Siegenthaler, G., J. H. Saurat, and M. Ponec. "Retinol and retinal metabolism." Biochemical Journal 268.2 (1990): 371-378.

Fluhr, J. W., et al. "Tolerance profile of retinol, retinaldehyde and retinoic acid under maximized and long-term clinical conditions." Dermatology 199.Suppl. 1 (1999): 57-60.

Creidi, Pierre, et al. "Profilometric evaluation of photodamage after topical retinaldehyde and retinoic acid treatment." Journal of the American Academy of Dermatology 39.6 (1998): 960-965.

Mukherjee, Siddharth, et al. "Retinoids in the treatment of skin aging: an overview of clinical efficacy and safety." Clinical interventions in aging 1.4 (2006): 327.

Dréno, B., et al. "Topical retinaldehyde with glycolic acid: study of tolerance and acceptability in association with anti-acne treatments in 1,709 patients." Dermatology 210.Suppl. 1 (2005): 22-29.

Pechere, M., et al. "The antibacterial activity of topical retinoids: the case of retinaldehyde." Dermatology 205.2 (2002): 153-158.